Physical Fitness and Resilience
The clear nexus between physical fitness and resilience was well observed in Chinese, Greek, and Roman civilizations and is extensively reported in scientific literature since the 20th century.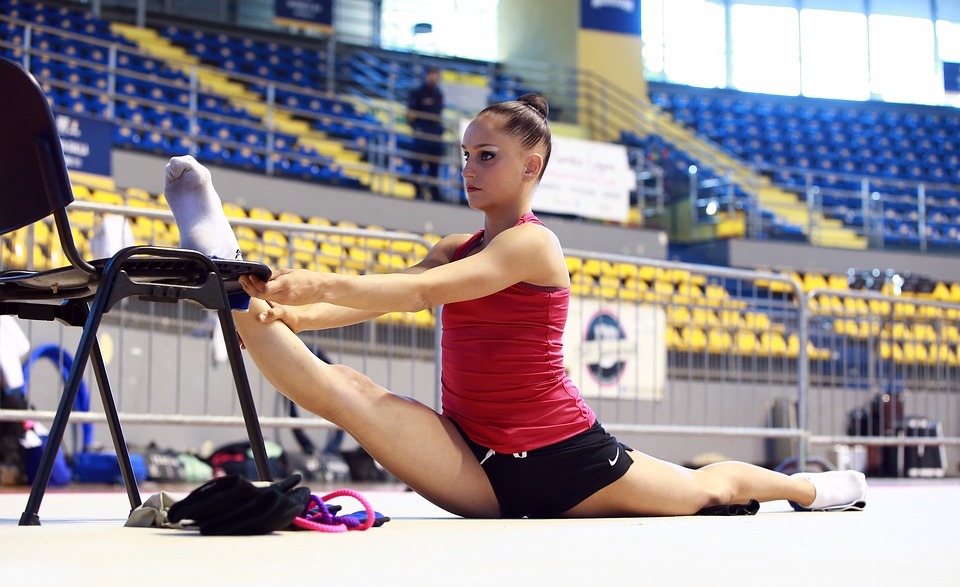 One study observes:
"Physical fitness, achieved through regular exercise and/or spontaneous physical activity, confers resilience by inducing positive psychological and physiological benefits, blunting stress reactivity, protecting against potentially adverse behavioral and metabolic consequences of stressful events and preventing many chronic diseases. Physical fitness appears to buffer against stress-related disease owing to its blunting/optimizing effects on hormonal stress responsive systems, such as the hypothalamic–pituitary–adrenal axis and the sympathetic nervous system. This blunting appears to contribute to reduced emotional, physiological and metabolic reactivity as well as increased positive mood and well-being.
Another mechanism whereby regular exercise and/or physical fitness may confer resilience is through minimizing excessive inflammation. Chronic psychological stress, physical inactivity and abdominal adiposity have been associated with persistent, systemic, low-grade inflammation and exert adverse effects on mental and physical health. The anti-inflammatory effects of regular exercise/activity can promote behavioral and metabolic resilience, and protect against various chronic diseases associated with systemic inflammation. Moreover, exercise may benefit the brain by enhancing growth factor expression and neural plasticity, thereby contributing to improved mood and cognition. In summary, the mechanisms whereby physical fitness promotes increased resilience and well-being and positive psychological and physical health are diverse and complex."
It continues:
"Scientific data documenting the essentiality of physical activity for health did not emerge until the late 1800s and early 1900s when epidemiological studies clearly demonstrated that physically inactive persons were more likely to have coronary heart disease than those who led active lifestyles. Since those first studies, the literature has become replete with evidence that physical inactivity serves a major role in the rising prevalence of obesity, cardiovascular disease (CVD), hypertension, type 2 diabetes, metabolic syndrome, insulin resistance, hyperlipidaemia, breast and colon cancers as well as depression and anxiety. Moreover, physical inactivity is the fourth leading contributor to death worldwide."
The U.S. military has taken a special interest in the link between physical exercise, stress reduction, and resilience training. A study by the Rand Corporation concludes:
Physical fitness is a key factor that can affect an individual's resilience and readiness to perform military duties.
Physical activity may help an individual to successfully cope with the stress of military duty.
Low physical fitness is related to an increased risk of injuries in basic combat training.
There is a clear relationship between physical activity and health outcomes.
Sedentary living increases the likelihood of many negative outcomes and chronic health conditions, such as breast cancer, depression, hypertension, and coronary heart disease.
Objective measures, such as accelerometers, are more reliable tools for measuring physical activity than questionnaires that rely on self-reported levels of physical activity.
References:
From Physical Fitness to Integral Resilience
Physical fitness is a wonderful way to cultivate resilience. It has the virtues of being tangible, enjoyable, and easily amenable to delivering a wide spectrum of beneficial health outcomes, as noted above. And its benefits can be significantly enhanced by introducing Big Heart Intelligence into the practice.
Most physical fitness programs focus entirely on physical exercise which is well and good. But as the Diagram below suggests outcomes can be dramatically increased when other dimensions are brought into play.
In fact, the introduction of Heart changes the entire meaning of "winning" as the interview with qigong grandmaster Li Junfeng suggests. Master Li was the chief coach of the national Chinese women's wuxu teams, guiding them to over 100 gold medals.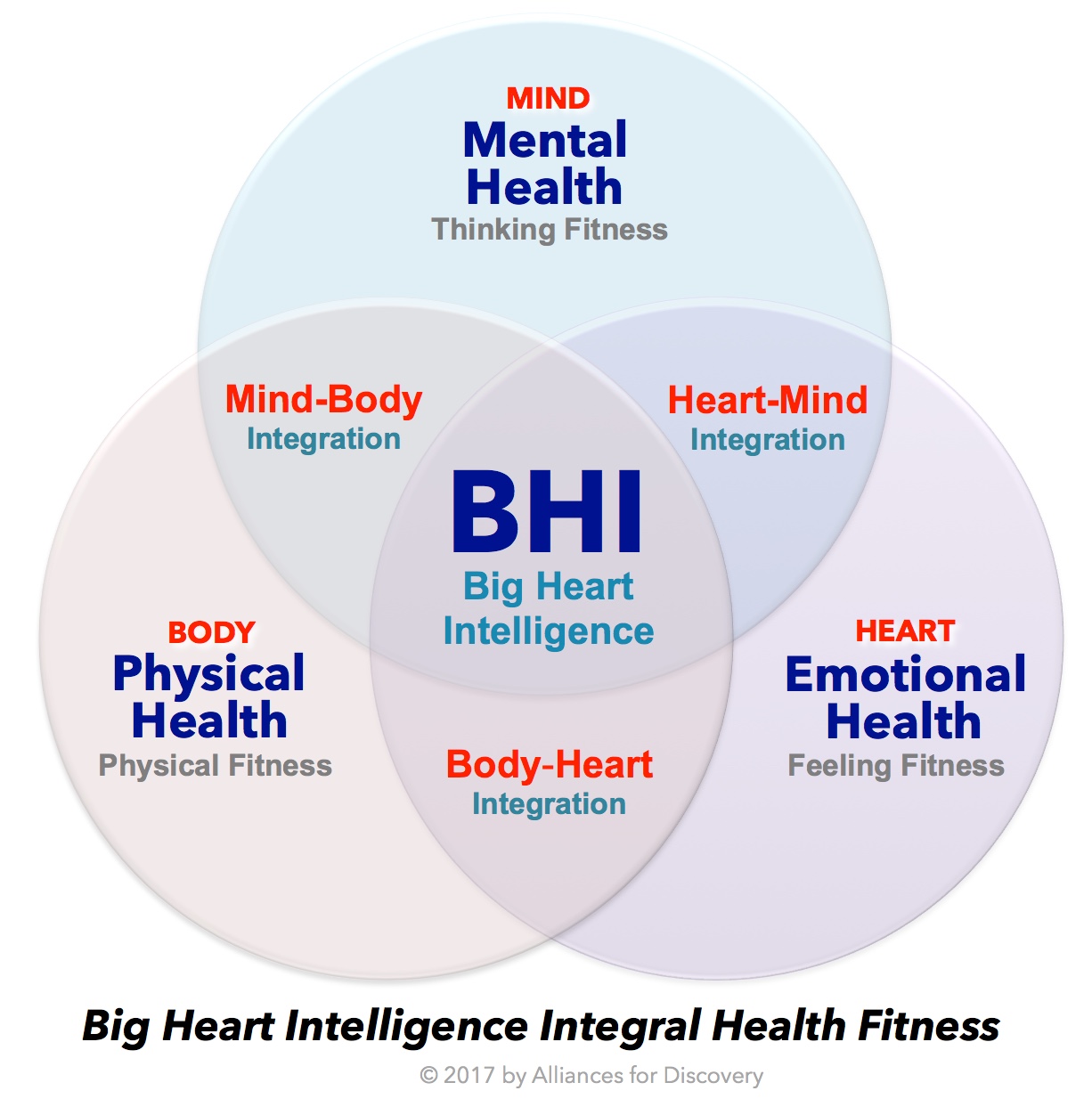 Here is an excerpt from that interview:
LJF: Big Heart, of course, good for anything. For sports, number one, "What's the purpose of sports? If we understand the main purpose, already we have an advantage. Sports afford an opportunity for exercise and to enhance our health; second, it involves competition; but not only for competition; sports is also for happiness. But now competition has come to dominate. But here, also, Big Heart helps us to understand: what is the purpose of competition?" Competition is actually a game. Competition makes people more interested and engaged. Because people are more interested, they can become happier. Big Heart helps you understand what is the purpose; how can I enjoy the practice; how can I enjoy the competition.
For example, take tennis or basketball. Tennis is played one on one; basketball is a team sport. However, the principle is the same. If you have Big Heart, you can enjoy the practice, enjoy the competition. If the other side skill not so good, you may win but you really don't enjoy the competition very much. If the other side's skill is very strong, very high, actually you enjoy the competition much more and you learn more. You play harder; you must be more alert, so you enjoy more. The competition provides the stimulus and incentive to train your skill to a higher level. This is the purpose. It doesn't matter whether you win or lose. Even if the other side wins and you lose, you still can enjoy the practice very much. When the competition is intense, you say to yourself, "I really enjoyed this!" Actually, you also win, because you learned so much!"
JG: That's really interesting.
LJF: We don't care so much about the result. We pay attention to the development of our skill. The more you think and train this way, the more rapidly you go to a higher level. If you always win, actually it's not so good; your skill can't grow up. Even if you win for a long term, you are not winning in the way I am trying to tell you.
JG: I understand what you are saying. There is a famous movie Chariots of Fire which won many Oscars. It is about the Olympic running competition just after WWI. The British team was headed by two star athletes, Eric Liddel and Harold Abrahams. At least as portrayed in the movie, Abrahams was a truly great runner. He became the elder statesman of British sports. But Liddel was even greater. Although he was a fierce competitor he seemed to be guided and driven by a higher destiny, even higher than winning. It was his devotion to the sport itself, and also to his God; he was a devout Christian missionary, and actually later died in China. On the day of the competition Eric Liddel went over a welcomed the American Team which itself was headed by two star athletes, Jackson Sholz and Charles Paddock. He wished them success. He understood the competition would drive the British team to even greater levels of performance. In the movie Jackson Scholz passes him back a note in which he wrote, quoting from the New Testament "He that honors me, I shall honor." Eric Liddel and Harold Abrahams went on to both winning gold medals.
LJF: If you say, "I must have the gold medal." you limit yourself. Only one person can receive the gold medal; what about everyone else? Does that mean the happiness of thousands of other people does not matter? If you cannot receive the gold medal, then you can no longer be happy? This makes no sense. One thousand people watching but only one person can enjoy? This is not sports; this is opposite from the main purpose of sports. If you have Big Heart you understand the purpose of sports and of competition. Through sports you can make your body healthier. Through sports you can enjoy the process. You practice two hours and you're very happy. But if you have small heart and practice very hard, you don't really enjoy the practice; then what if you lose?, you suffer very much. This is not good for the emotions, and, of course, not good for your health.
Notes:
Next: 10 Essential Moves