Resiliency in Systems: Keywords
Resiliency in Systems: Keywords
Bill Moulton, our staff systems cyberneticist, provides the following keywords related to resiliency – with the first list focused on challenges to systems, and the second list on how system survive challenges:
Crisis or degree of "system challenge" keywords:
Breakdown
Adversity
Change
Distortion
Deviation
Abnormal
Anomalous
Disturbance
Disruption
Damage
Failure (failure modes)
Capability degradation
Cost increases
Capability loss
Interference
Perturbation
Dysfunction
Chaotic factors
Responsive resilience or degree of "system viability" under stress keywords:
Viability
Vitality
Changeability
Weathering change
Controlled growth
Versatility
Sustainability
Endurance
Continuity
Adaptability
Stability
Security
Homeostasis
Reliability
Survivability
Robustness
Pliability
Strength
Recoverability
Remapping
Responsiveness
Mediating
Reflexive
Flexibility
Resolving
Interoperable
Affordable
Functional
Maintainable
Vibrant
Thriving
Bouncing back
Symbiosis
Collaborative
Integrating
Diversity inclusive
Variety inclusive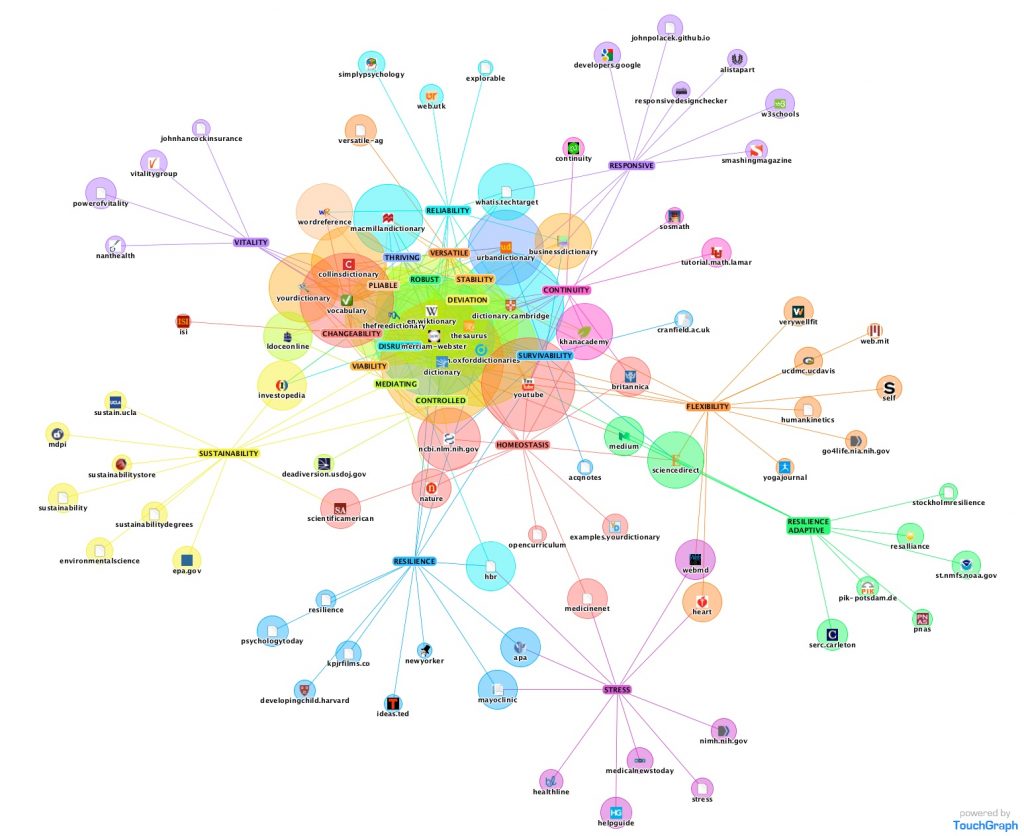 Resilience related keywords organized by associate density in Search Engine Optimization (Touchgraph.com) Click image to see larger.
Resilience is characterized by ability for recovery, maintenance of stability, capacity to adapt, ability to resist destructive change… when we worked with EPRI the issue of renewables was that it predicted a challenge to grid resiliency due to intermittency of supply from renewables, hence the need for grid scale energy storage solutions to provide grid supply resiliency.
Resilience is a systems vitality and systems viability principle, that suggests resilience is crucial to organizational, biological, cultural, ecological, materials systems robustness, continuity, safety, vitality, control, and viability.
In the field of materials and design, there is a branch called "resilience engineering", and in cybernetics there is something called the "Viable Systems Model" or VSM (developed by Ross Ashby one of the fathers of modern day cybernetics since Norbert Weiner). Another key general principle from cybernetics is "requisite variety", the ability to maintain course despite deviations encountered.
In other words, resilience is very much about maintenance of continuity of purpose in the face of resistance, deviation, disruption, and is hence all about adaptive systems that maintain themselves in the face of change. And sometimes, like the reed, it is only possible through great adaptation, as opposed to sheer resistance. The principle reduces to "only variety absorbs variety" (Ashby 1956) – that is only systems that can vary themselves can sustain themselves in the face of changing environment in which they thrive.
Keeping your car on the road while driving is therefore a perfect example of requisite variety, adaptation, maintaining continuity and safety when encountering obstacles, bad drivers, poor weather, and so forth. The one who has an accident is a system that exhibits insufficient requisite variety.
Resilience is inclusive of a number of organizational activities: conflict resolution, coordination, stability, internal regulation, monitoring, optimization, synergy, intelligence, adaptation, forward planning, strategy, identity.
Notes:
One commentator notes: "The reasons for this lack of coherence (about the definition of resilience) are the underlying differences in the scope of analysis, with respect to time periods chosen, the system boundaries, the disruptive events considered, the actions suggested for coping with the disruption, and the system qualities that should be preserved (Sheard and Mostashari 2008) There is an extensive literature on the viability of systems that is directly relevant to resilient systems.Viability in Systems (Mekdeci, B. 2013) Managing the impact of change through survivability and pliability to achieve viable systems of systems, Ph.D. dissertation, Engineering Systems Division, MIT Cambridge, MA. (PDF) Design for Viability of Complex Engineered Systems under Uncertainty. Available from: Of note in Mekdeci's review of the partial synonym for resilience, 'viability':
Viability is applicable to all engineered systems, whether they are traditional, monolithic systems, or large systems of systems.
Viability is Subjective. Whether a system is viable or not, it is determined by how well the outputs of the system are likely to satisfy stakeholder needs.
Viability Is Dynamic. Viability is a prediction about whether the system will provide acceptable value to its stakeholders over its life era. What constitutes the life era is a prediction made by the stakeholders at the time viability is assessed.
Viability is Relative. A system can be more or less viable than another system or to itself, if something changes since viability are likely. The more likely that a system will provide acceptable value to its stakeholders over its life era, the more viable it is.
Viability does not mean Existence. It is possible for an engineered system to exist, for a finite period of time, without being viable.
Above from Design for Viability of Complex Engineered Systems under Uncertainty)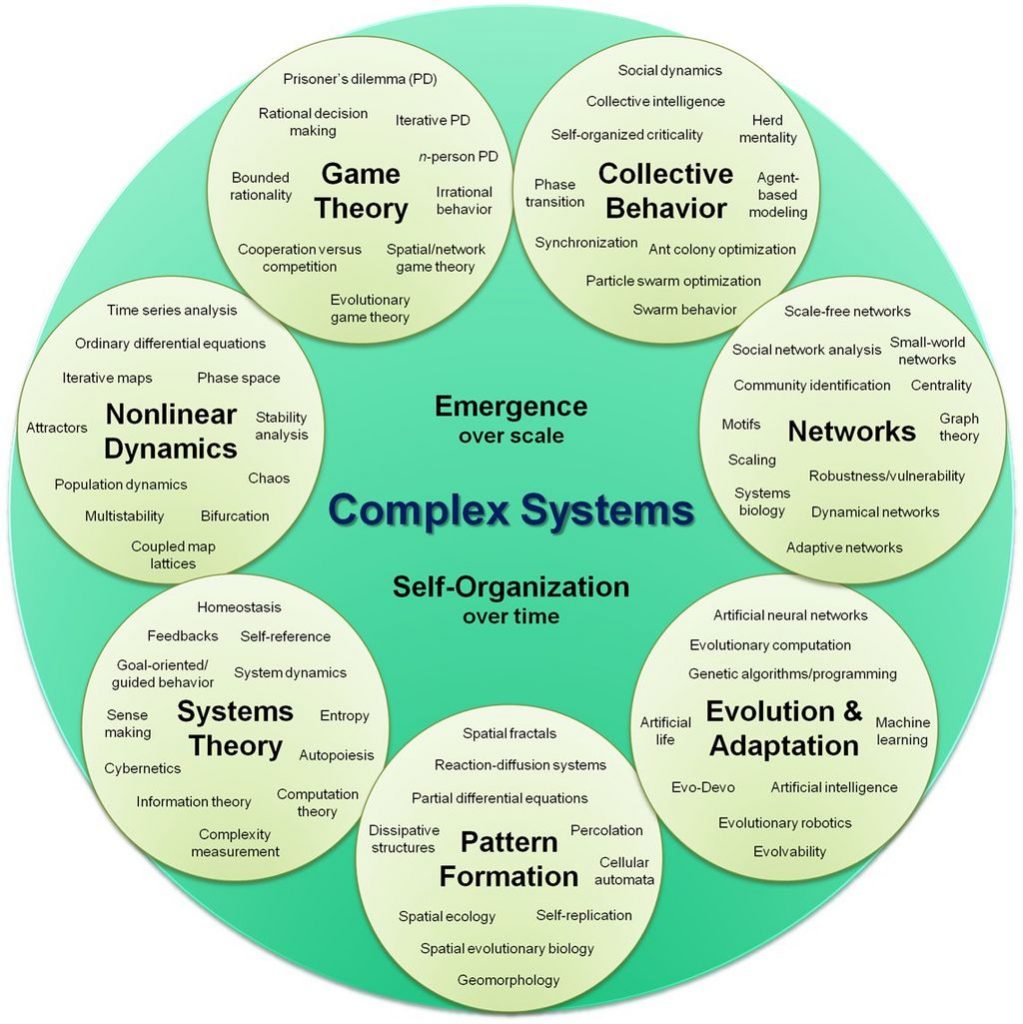 This diagram below is a visual, organizational map of complex systems broken into seven sub-groups – Created by Hiroki Sayama, D.Sc., Collective Dynamics of Complex Systems (CoCo) Research Group at Binghamton University, State University of New York. (Click for larger):