Smiling, Mirror Neurons, and Resilience
The simple act of smiling appears to activate neural messaging that promotes health and happiness. When we smile neurotransmitters like dopamine, endorphins and serotonin are released. Smiling not only relaxes our body; Recent discoveries suggest it can also lower our heart rate and blood pressure.
Notes:
Mirror Neurons
There is strong evidence smiling activates mirror neurons in the brain.
One fascinating article in Psychology Today notes:
"Using brain imaging, scientists are exploring the areas of the brain that are activated when we see another person smile. Of course, you'd expect the visual areas of the brain to light up. But other areas of the brain light up too, including the premotor cortex, an area that helps activate our own smiling muscles and the somatosensory and insula cortices, areas that report what it feels like physically and emotionally to smile. Neurons that fire both when we observe and when we take part in an action are called mirror neurons. When we see someone smile, mirror neurons simulate our own smiling."
The article continues:
"When we see another person smile and then mentally simulate that smile or respond with one of our own, we feel happier. A simple view of another person smiling triggers a whole series of changes in our brain and autonomic nervous system. We can never really know what it feels like to be someone else, but our mirror neuron system and ability to mentally simulate another's actions may bring us closer to understanding each other."
Notes:
Leonardo—Why Does the Mona Lisa Smile?
It is highly likely that Leonardo Da Vinci had deep insight into the neurobiology of smiling many years ahead of other scientific explorers. One fascinating article explains: Why Mona Lisa is Smiling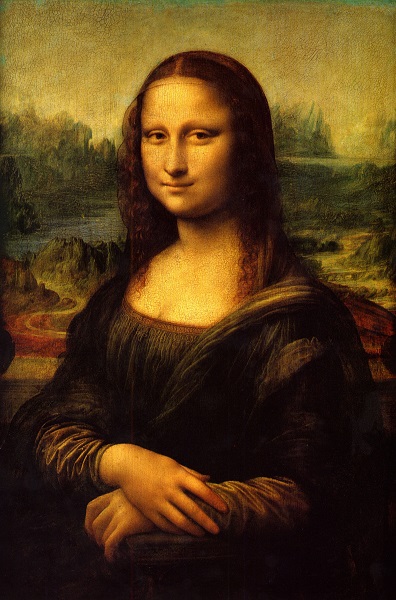 "The reason we ask why she is smiling is actually because all the other portraits aren't. Before, during and long after the Renaissance, artists did not paint their subjects smiling. Leonardo made a definite decision, though, even hiring people to come and, wrote Vasari, "make her remain merry, in order to take away that melancholy which painters are often wont to give to the portraits that they paint".
"What this little gesture did was huge: it brought art to life. In the centuries leading up to the Renaissance, paintings were generally created as idealized images, often religious, to be contemplated and revered. The Mona Lisa was a real woman who with a smile initiated a dialogue with the viewer that had not existed before; it changed the very nature of the relationship between art and audience. With that one smile, Leonardo had imbued a work of art with a conceptual stroke of what's now called "genius"."
"So, it's not why she's smiling that's important, it's that she's smiling."
Personal Findings
Some Discovery Questions
Next: Humor and Resilience