Big Heart Advantage in Sports
A Conversation with Master Li Junfeng and Master Li Jing Conducted in the Summer and Fall of 2015, as updated in May 2017
© Copyright Julian Gresser, Li Junfeng, and Li Jing
---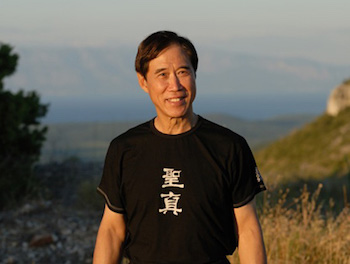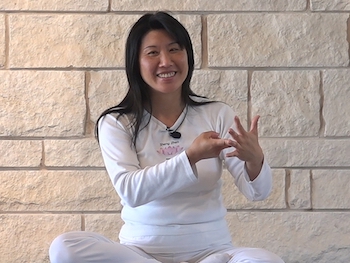 ---
Abstract
Qigong Grand Masters Li Junfeng and Li Jing explain that winning at the level of Olympic sports is not just a matter of extraordinary skill. At this level every player is superbly qualified. The extra critical ingredient is Big Heart Intelligence. In Master Li Junfeng's experience in coaching China's women's wuxu teams to over 100 gold medals BHI principles become interwoven as a way of life in the network of sport's culture—in interactions with players, coaches, fans, sponsors, team owners, financiers, and the community at large. Ultimately, as Li Jing points out, victory depends on flow, which is the very essence of BHI.
---
JG: Master Li, along with your friend Wu Bin you spent fifteen years coaching and guiding China's wuxu teams to an unprecedented record of gold medals and other laurels that brought great honor to your country. What are some of the secrets to your success? How does Big Heart Intelligence create advantage in sports?
As we were driving to San Francisco you said something in the car that I thought was quite an interesting observation. You said if you enjoy the sport and you enjoy the competition, you immediately have an advantage.
LJF: Big Heart, of course, good for anything. For sports, number one, "What's the purpose of sports? If we understand the main purpose, already we have an advantage. Sports afford an opportunity for exercise and to enhance our health; second, it involves competition; but not only for competition; sports is also for happiness. But now competition has come to dominate. But here, also, Big Heart helps us to understand: what is the purpose of competition?" Competition is actually a game. Competition makes people more interested and engaged. Because people are more interested, they can become happier. Big Heart helps you understand what is the purpose; how can I enjoy the practice; how can I enjoy the competition. For example, take tennis or basketball. Tennis is played one on one; basketball is a team sport. However, the principle is the same. If you have Big Heart, you can enjoy the practice, enjoy the competition. If the other side skill not so good, you may win but you really don't enjoy the competition very much. If the other side's skill is very strong, very high, actually you enjoy the competition much more and you learn more. You play harder; you must be more alert, so you enjoy more. The competition provides the stimulus and incentive to train your skill to a higher level. This is the purpose. It doesn't matter whether you win or lose. Even if the other side wins and you lose, you still can enjoy the practice very much. When the competition is intense, you say to yourself, "I really enjoyed this!" Actually, you also win, because you learned so much!"
JG: That's really interesting.
LJF: We don't care so much about the result. We pay attention to the development of our skill. The more you think and train this way, the more rapidly you go to a higher level. If you always win, actually it's not so good; your skill can't grow up. Even if you win for a long term, you are not winning in the way I am trying to tell you.
JG: I understand what you are saying. There is a famous movie Chariots of Fire which won many Oscars. It is about the Olympic running competition just after WWI. The British team was headed by two star athletes, Eric Liddel (https://en.wikipedia.org/wiki/Eric_Liddell) and Harold Abrahams.( https://en.wikipedia.org/wiki/Harold_Abrahams) At least as portrayed in the movie, Abrahams was a truly great runner. He became the elder statesman of British sports. But Liddel was even greater. Although he was a fierce competitor he seemed to be guided and driven by a higher destiny, even higher than winning. It was his devotion to the sport itself, and also to his God; he was a devout Christian missionary, and actually later died in China. On the day of the competition Eric Liddel went over a welcomed the American Team which itself was headed by two star athletes, Jackson Sholz(https://en.wikipedia.org/wiki/Jackson_Scholz) and Charles Paddock (https://en.wikipedia.org/wiki/Charley_Paddock). He wished them success. He understood the competition would drive the British team to even greater levels of performance. In the movie Jackson Scholz passes him back a note in which he wrote, quoting from the New Testament "He that honors me, I shall honor." Eric Liddel and Harold Abrahams went on to both winning gold medals.
LJF: If you say, "I must have the gold medal." you limit yourself. Only one person can receive the gold medal; what about everyone else? Does that mean the happiness of thousands of other people does not matter? If you cannot receive the gold medal, then you can no longer be happy? This makes no sense.  One thousand people watching but only one person can enjoy?  This is not sports; this is opposite from the main purpose of sports. If you have Big Heart you understand the purpose of sports and of competition. Through sports you can make your body healthier. Through sports you can enjoy the process. You practice two hours and you're very happy. But if you have small heart and practice very hard, you don't really enjoy the practice; then what if you lose?, you suffer very much. This is not good for the emotions, and, of course, not good for your health.
This is why when we speak of "competition" one key word, "friendship competition."
JG: You mean friendly competition?
LJF Yes, friendly competition. When you have Big Heart competition is always friendly. If small heart, it becomes like war. We say in the Chinese Army, "You die, I live." (Ni sy, woo huoh/你死我活着),; sports becomes like war. So this is about Big Heart and small heart. If I have Big Heart I want to win, but if you win, I learn from you. Congratulations! If I have small heart and you hurt your body, I am happy because you can no longer compete. But in fact you are not truly happy. You become a smaller person.
JG: I have an American example of what you are saying. A few weeks ago the great Hall of Fame All Star basketball player Magic Johnson came to Santa Barbara and led a marvelous evening "together" with about 1,000 fans. I was in the audience. He shared his philosophy on the "Magic of Winning" in sports and business. There can be no doubt that Magic Johnson is a determined winner. "Winning is a mindset" he said, "You must have the powerful will to win. In basketball it starts in practice…I was the hardest worker on every team that I played on, but it started in practice." Magic told the audience that he carefully,  ever so carefully, evaluated what it would take to win; what are his weaknesses, and the strengths of his opponents, and he would plan out precisely what it would take to win; and then he dedicated himself, body, mind, and soul to this single purpose. There seems a deep honesty in evaluating oneself accurately and modestly. . "Self-evaluation is the hardest thing when you have to really examine yourself and be honest with yourself," Johnson told us. "What are you strong at, what are you weak at, what do you need to work on. So I wasn't afraid to say I needed to work on some things to get better." Despite his fierce competitive passion, there can be no doubt that Magic loved the sport, he loved the competition, and he loved the challenge to continue to enhance his performance. Larry Bird, his great rival on the Celtics, pressed Magic into even higher levels of performance, just as you are describing from your experience with China's wuxu teams.
JG: It seems that Big Heart applies not only to the players but also to the coach, and his or her relationship to the players. And perhaps there are subtle differences, although I believe you are correct in observing the basics are the same.
LJF: When the coach has Big Heart he knows how to train the players. Makes the players enjoy the practice and enjoy the competition.
JG: How does the coach do that?
LJF: Do not give undue pressure. This is very important. Actually, when I was the coach I never told the players, "You must win a gold medal." From very early in my life I already understood this. For example, when I train my players in practicing with the regular sword and the broad sword, I help them catch the distinctive flavor. When you know the flavor, you know the reason you enjoy the practice. I tell them, during competition do not think that you are performing or presenting to the judges. If you do this, you will become nervous. I tell my athletes during the competition, show your form to me; I am the coach. During practice my players always present to me. It is no different in competition. I tell you how to do it correctly. You can make sure. You tell me how you do it. Don't think you are presenting to the judge. In this way you are less nervous and you can enjoy more.
JG: Yes, that makes sense. You have established a relationship of love and trust with your players. They love you, and you love them.
LJF: Yes, if my player receives a gold medal. Very good. And if she obtains a silver medal, also very good. Oh, you already are at high level! Congratulations. Now we can take your skill to the next level. Another situation. Even if a player wins a gold medal, her skill during that competition may not be so good. You may be #1, but you are much lower than normal. Still not good. For example, in the past she jumps 2 meters. But today, only 1.95; even if she wins the gold medal, still not so good, because you are not realizing your true potential; you can do even better. So, don't always think #1 or #2; you ask yourself, "Am I doing my best?
JG: A guess another way of putting the key question is how do you define Big Heart success? It sounds to me you are suggesting there are different ways to define success in sports. The conventional way is simple: you win. But it seems there is another way…..
LJF: Yes, when we are training you, you already do your best. That is success.
JG: Yes, that seems to be the point. Suppose for example you set a goal in jumping at 2.0 meters. Does that mean if you do 1.9 it is a failure?
LJF: Even if # 1 still not good because you might do even better. Actually, you lost.
JG: This seems a different, certainly unconventional way of defining success. You are defining success to mean you do your best…..
LJF: Yes,
JG: And not only that you are enjoying your practice. Do you care about the other side, or is that not a part of our success?
LJF: Let's take football. If the other side gets injured and you win, this is not good, because it is not the purpose of the game, which is to enhance your enjoyment of the sport and to enjoy your life.
JG: Another interesting aspect of what you are saying is that sports– I suppose increasingly like everything else in this world– is becoming a business. Sports, particularly professional sports, but even collegiate sports are increasingly supported by people who have money. They want the team to win, so they can make money; better advertising and so forth. You see this everywhere. In my profession, the legal profession, in the old days lawyers would join partnerships and they would build up the business in a spirit of collaboration. Now all this is changing. The legal profession is changing rapidly. Partners who have served their firms faithfully for 40-50 years are being thrown out because they are not bringing in the same level of business as the younger partners. In the old days, if you bring in new business, "Oh, congratulations, how wonderful" is the reception you might receive in the old time law firms. In today's firms the first question on everyone's mind, I suppose because of the compensation structure, is how can I find a way to cut into your business or even steal your client. If I can steal your client, I can make more money for myself and be promoted.
LFD: Yes, everything for business, for making money; this becomes small heart. Small picture, only think yourself. What you describe is not only small heart, but poisonous and dirty heart.
JG: Coming back to the most basic question—how do you define success? What is the role of the team, and what is the role of the player? The really interesting question, it seems to me, is can we show that if you are a Big Heart player you can be even more successful, as the term is conventionally defined? So far you appear to be saying that even if you win but you have a small heart, in a fundamental sense you will lose. But what of the opposite condition? Can we say that thanks to Big Heart you will have a winning advantage in the conventional sense of winning?
LJF: Yes, this I also has been my experience. If you simply enjoy the competition and always do your best, you will be less nervous; then thanks to competition you will exceed the normal. (insert Chinese). So when you have small heart, I must be #1 I cannot be #2, usually you are nervous, have pressure, easy to have a big miss.
JG: This is very fascinating. Because what we want to show is that these principles of Big Heart apply in many situations. It makes sense when you consider what we have been discussing from the perspective of energetics, which is another way of describing the flow of qi that is closely tied to flow and power. Of course your performance will improve. And, if you couple your Big Heart to the mission, to an intelligent intention, your power and performance will increase by even greater degrees. And the more you're relaxed and powerful, of course the chances that you will do better are greater.
LJF: I will tell you a story. When our team was making strong progress, our group political leader always wanted to address the team and commend them for their performance. He wanted to give a speech to encourage the team. "You are doing very well. All of Beijing City is proud of you. You cannot afford to lose." If my team players heard these words, immediately they would become nervous, and then it was easy for them to make mistakes. So this is why I would not listen to the leader. The leader said, "I want to give a speech." I said "No." "Today, you simply relax; you enjoy a movie; we just do normal. You cannot give a speech. By giving a speech you will press your team, telling them they must win; that is small heart. Small heart, usually very selfish; small heart with selfish, always nervous, the Mind becomes narrow.
LJF: So far we have discussed the player and the coach. Big Heart also applies to the fans, to the audience. If Americans are watching the Olympics, of course they want their national team to win. But they also want to enjoy the competition. If the American side wins, everyone says, "Oh, very good! You played very well." But they also want to say this about the opposite side as well.
JG: There is another famous movie, The Natural about a baseball pitcher with unusual talent. In that movie a fan was so filled with competition and hatred, he actually injured the hero of the movie (played by Robert Redford) so that his team would win.
LJF: You will find many such examples in all walks of life.
JG: I have a personal story to tell you. My mother was nine times U.S. Women's Chess Champion. During the competition her chief opponent also a women's champion used to sit at the other side of the table beaming hatred at her in order to unsettle her Mind. It was actually the opposite of what you are saying. How can I destroy the other woman? That is all they would think about. This is actually how women's chess was practiced in those intense competitions. Perhaps international chess championships have changed. I believe the present world women's champion is from China.
JG: Let's discuss for a few moments the link between Big Heart, health, and sports. For example, what do you think about the use of steroids?
LJF: Steroids are about unfair competition; they are not sports. They are not good for health or sports or really true competition.
I would like to repeat what is the meaning of Big Heart. Big Heart means to see the Big Picture and the Long Term. If you want to see the long term benefit, Big Heart also means to purify the Heart.
JG: OK, so here's an interesting question. You have Big Heart, you see the Big Picture. Now you have a sports event. It is very easy with this view to see how the proceeds of this event might be recycled back to society.
LJF: Now we go to the main point.  Most sports today already head in the wrong way; only for business. This is why the role of the coach is central, because he or she knows how to train the players–so they are healthy, enjoy the practice, and enjoy the competition. It is easy to win under these circumstances.
JG: In our conversation today we have mentioned three distinct participants—the player, the coach, and the fans; but there is also the producers, the financiers, and the community, society. I think today very few people who are engaged in sports say to themselves the purpose of sports is to enrich the community or society at large. Few people, it seems today, think in these terms at all. But if you have the Big Picture you will be concerned about enriching the health and happiness of the players and the fans; and of course this will naturally have positive ripple effects and become a force of convergence of Big Heart for the community as a whole. If the people who finance sports understand that sports are at least, potentially, a wonderful vehicle to create value for society, then the players and coaches will have this sense as well. Naturally, it might follow that a significant part of the proceeds under this model might be returned or reinvested in communities themselves.
It seems that once people begin to think about the Big Picture all sorts of new possibilities come to mind. For example, think of how this Big Heart model might be applied in the context of U.S.-China relations. One might envision Big Heart sports event where all parties hold the Big Heart Big Picture. One might even conceive multinational teams including both Chinese and other international players. Once the perspective changes, the unimaginable becomes possible.
JG: Yet in reality in most competitions there are elements of Big and small heart combined. The Big Heart player can see the field better, understands the situation better, is more intelligent because she or he understands and feel from the heart and therefore is more adaptive; such a player for this reason will often have a decisive advantage. Because if you know what is happening in the field; you know who is strong, who is weak, where there is leverage; you can see stereoscopically; you see the whole picture with a Big Heart.
LJF: The coach wants you to see everything; but many players cannot. We train players and their coaches to open their hearts so that naturally they are able to see the Big Picture.
Li Jing: From our point of view when we get to the professional level, we don't really speak that much about or train at the level of skill. Rather, we train at the level of a state of flow.
JG: Let me write down precisely what you just said, because it is very interesting. What you are saying is at the highest level, it is no longer just a matter of skill; it is a competition over a state of consciousness.
Li Jing: Yes, in other words, it not only about psychology but really the state of flow.
JG: I would like you to watch this video for a few moments of Magic Johnson when he was at his prime. He is in what appears in a perfect flow state for his team but also with the competition. https://www.youtube.com/watch?v=q8Qbo0WqvOI
LJF: Wait a moment. This is very difficult to explain. In Sheng Zhen Big Heart practice we speak of returning to the origin, this is a state of joining: you join practice, you join the competition.
JG: What you are saying, as I understand it, is that once you reach a very high level of skill, victory is decided by the flow state. Of course, you must of high skill. But there is something else. It is clear in Chariots of Fire that Eric Liddel understood this. He was a natural. And we are not surprised that he trained close to nature, by running in the Scottish Highlands, breathing in the healing balm and bounty of the nature.
There is a professor at the University of Chicago Mihaly Csikszentmihalyi and he has written a bestselling book Flow—The Psychology of Optimal Experience. But even he assumes this flow is the product of the Brain and the Mind. He seems to ignore the primary role of Heart.
The key insight which you have provided to me today is that Big Heart and Flow are very closely related. Is that correct?
Li Jing: Yes, that is so.
JG: So, finally, what is the secret of how we can get into a state of flow, from the perspective of Big Heart? Can you express it in the fewest words?
LJF: First, you know how to synchronize your movements, how to help each other. When you know how to synchronize, you understand that you cannot focus your Mind on one point, and forget other points. This is the main point. If you focus only on one point, you cannot flow, because your Mind stops at that point. For example, if you are focusing on point # 1 and then bounce to # 3, how can you connect these points and also with # 2?
JG: It seems to me this process of "knowing" is not only with the Head?
LJF: If only from Mind, your Mind will demand proof–proof by numbers. But with Heart you can know without proof. Your Heart can feel. Maybe there is no proof but you can understand instantly, because you can feel. The Mind will insist on numbers. But the Heart knows by feeling without numerical proof.
JG: So it seems you are saying that the process of true "knowing" is not in the Head, but in the Heart. And that the Heart can feel and know. It is the consciousness of the Heart.
LJF: Yes.
JG: There is a very famous essay, The Unfettered Mind, by the Zen Master Takuan Soho on his Advice to the Swordman, Miyamoto Musashi, who was not only one of Japan's greatest sword masters but also a distinguished artist, painting under the name Niten. The main question he addressed in this essay is: Where should the Mind be in combat?
He wrote: "When the Mind biased in one place and lacking in another, it is called "one sided Mind"…Not allowing the Mind to stop in one place is the discipline. Not stopping the Mind is object and essence. Put nowhere, it will be everywhere. Even when moving the Mind outside the body, if it is sent in one direction, it will be lacking in nine others. If the Mind is not restricted to just one direction, it will be in all ten. It is like a ball riding a swift current; we respect the Mind that flows on like this and does not stop for an instant in any place."
In martial arts when a warrior's Mind focuses only on one thing, he or she is dead.
LJF: Actually, martial arts reflect a basic principle of Mind. It is the same in sports and many other applications.
JG: A closely related question which has a direct bearing on flow is the place of fear. In combat, martial arts or sports, how do we deal with fear or anger? Where is the Mind at the critical point(s)?
LJF: If your Mind is at peace, it is easy to win. When you are in a state of peace, this means you are relaxed. Your Mind is clear. When you are angry the Mind is not clear, the qi already murky. You will make the wrong decision. In the Chinese Army, if the leader is angry, we know that it s easy to make big mistakes, to do the wrong thing. Thus the peaceful Mind is also brave Mind (勇敢) Yǒnggǎn). The Chinese Army is always training this fundamental quality of character.
JG: So the last question is how do you deal with fear, which can be the main disruptive influence of flow?
LJF: In Chinese culture we say, "If your skill is high, you will not be afraid."  This is why training the student is fundamental. When you have this skill, you know all is not lost.
JG: In Japan there was another famous dialogue between the warrior/shogun (chief general) and the Zen teacher Bukko.
Tokimune: "Of all the ills of life, fear is the worst. How can I be free of it?"
Bukko: "You must shut off the place where fear comes from?"
Tokimune: "Where does fear come from?"
Bukko: "It comes from Tokimune."
Tokimune: "How do I abandon Tokiumne?"
Bukko: "You must cut off all thinking."
Tokimune: "How do I cut off all thinking?"
Bukko: "You must plunge yourself into meditation and forget yourself."*
LJF: In Chinese culture also many teachers tell their students to "cut off the fear." But for me, this is not that helpful. Everyone believes this teaching is useful. Students, grandfathers, grandmothers; they all seek to cut off the fear. But the problem is how to cut off fear?
JG: The answer in some schools of Zen is you simply acknowledge and are present with the fear, and it will eventually subside and dissolve. Personally, I have not found this instruction that helpful, especially in situations where you must take immediate and effective action. Your answer seems to be you open your heart. In Japanese culture……
LJF: Not only Japanese culture; in China as also. Even the coaches tell their players in this way. "Don't have fear! Cut off the fear! Don't be nervous! And what happens? The player becomes more nervous and more fearful. It easy to lose your balance. So we say, "open your heart" and naturally the fear dissolves.
JG: In sum, it would appear the state of flow is also a state of no fear. When you Open Your Heart, you dissolve your small self; and when your small self dissolves, your fear that feeds on a limited view of the world, subsides. When you Open Your Heart, you connect to your original source of power. You are going to the root– the essence–at the emotional level, the energetic level, and the spiritual level. Things then naturally come into balance.  It appears this is what you are calling "flow."*
References: